Rust is busted!
It's official, the outdoor track season is here!
I opened my season in the Payton Jordan Cardinal Invitational's 5,000m at Stanford University on April 19. This meet is often sought after by collegiate and post-collegiate athletes alike because of the strong fields and near-perfect California weather conditions.
I arrived in Palo Alto after a 12-hour trek involving a truck, boat, bus, plane, and train – I commend anyone who uses transit on a regular basis – and settled into the hotel about 48 hours before race time.
Unfortunately, I came down with some sort of GI bug the night before the race and did not get much sleep. I felt quite drowsy with low energy on race day, which is not exactly how you want to feel heading into a competition! The lack of sleep also impacted my headspace, knowing full well I was going into the race sleep deprived and likely a bit under fuelled. To be completely honest, I was a bit of a nervous wreck most of the day because I knew we were ready for a good race, but the conditions weren't optimal.
But I was there and decided to make the best of the situation. Thanks to my sport psych, Kendra, who sent me some last-minute practices to help calm my nerves, and my long-time friend, Sophie, who drove all the way from Davis to come see me, I was able to get a better handle on the internal narrative and gather myself before the race.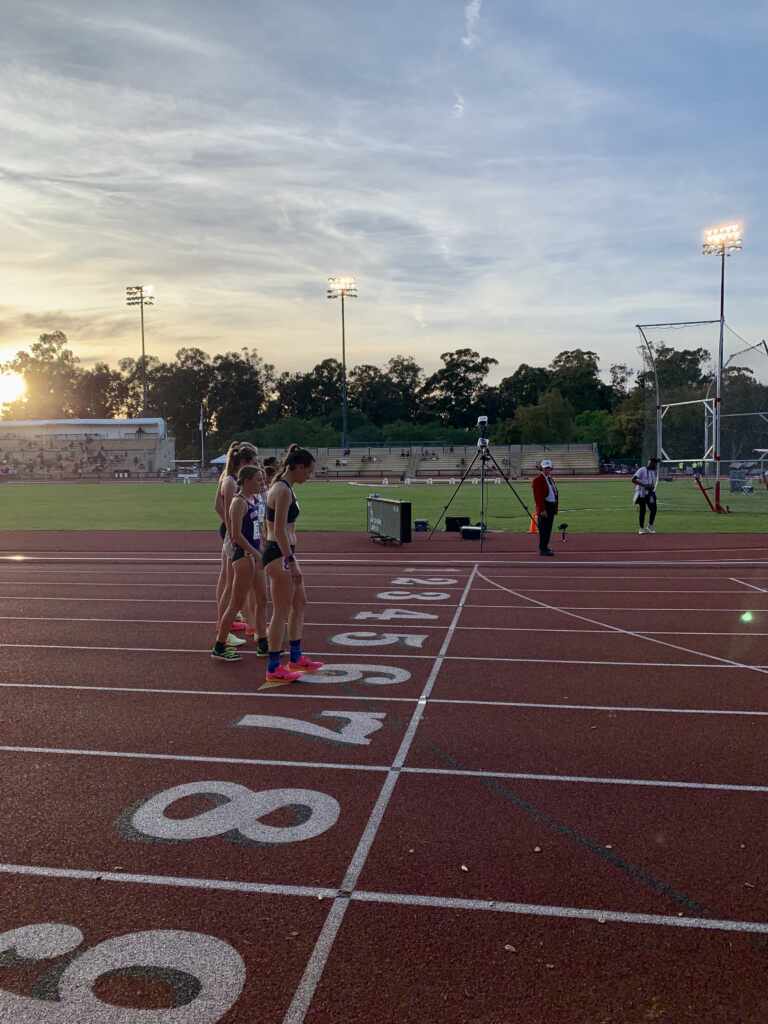 Physically, my legs felt heavy, and body felt a bit shaky heading into warm up. Thankfully, I felt "normal" once the race started. I felt controlled through 1km and stayed focused on each km objective (pictured below), repeated them in my head throughout the race and remembered to keep shoulders down and elbows back (a go-to cue during practice).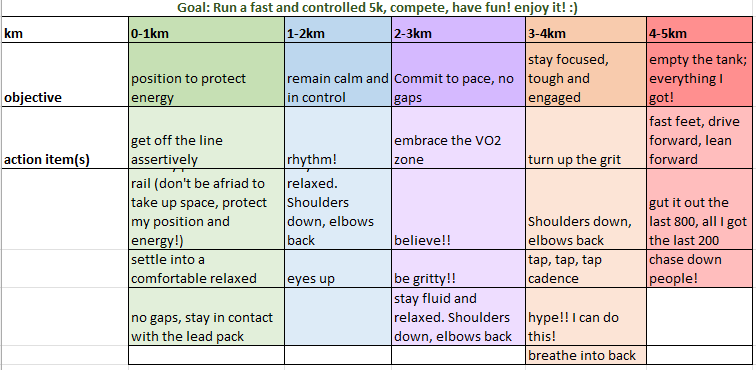 The lead group separated early on and instead of the field being strung out slowly, the rubber band just snapped, and we got broken up into two groups about 800m in. My group had some inconsistent pacing, which made it hard to get into a good rhythm. I was by myself the last 1500m or so, but I had people to chase just ahead.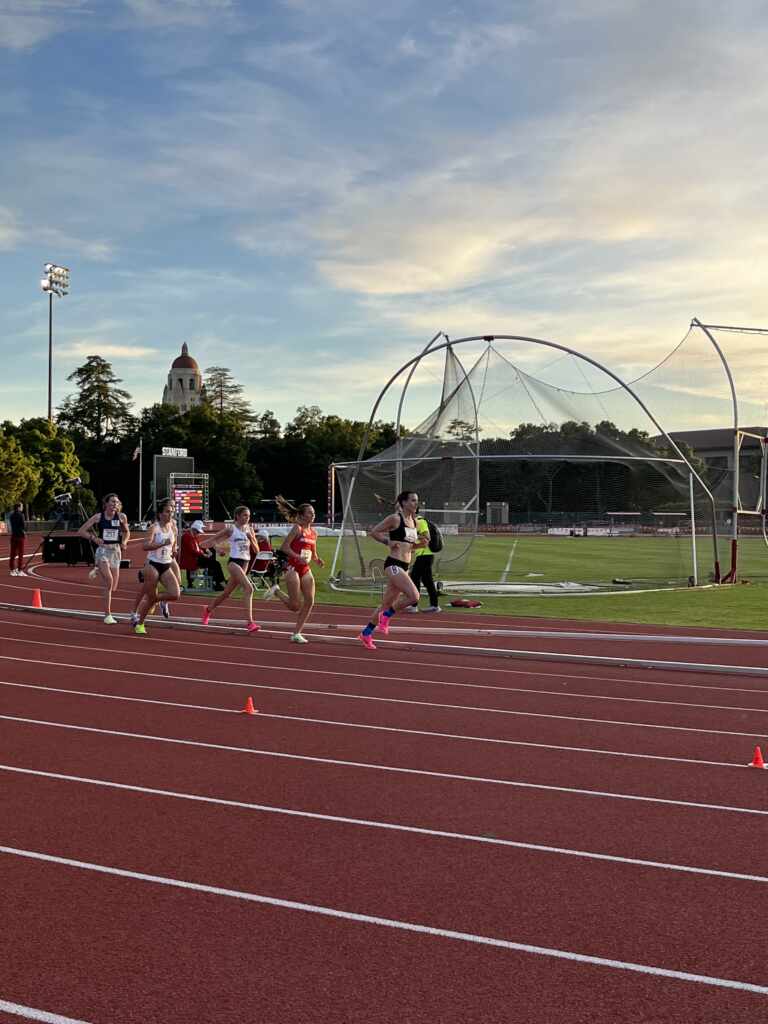 We didn't really have a performance outcome (time) goal as it was the first race of the season and the objective was to compete, whatever that looked like on the day. The result was 16:11.44. Not stellar, but not terrible either. I opened my season last year with a 16:18, so we improved upon that mark!
While my workouts indicate I can comfortably run sub 16, I stayed true to my process-based goals and tried to stay present in each lap and each km and did what I could in the moment to achieve each km objective through the respective action items. If I was only focused on paces/outcome goals, I would have packed it in right from the start because we went out a second or so slower than goal practice pace.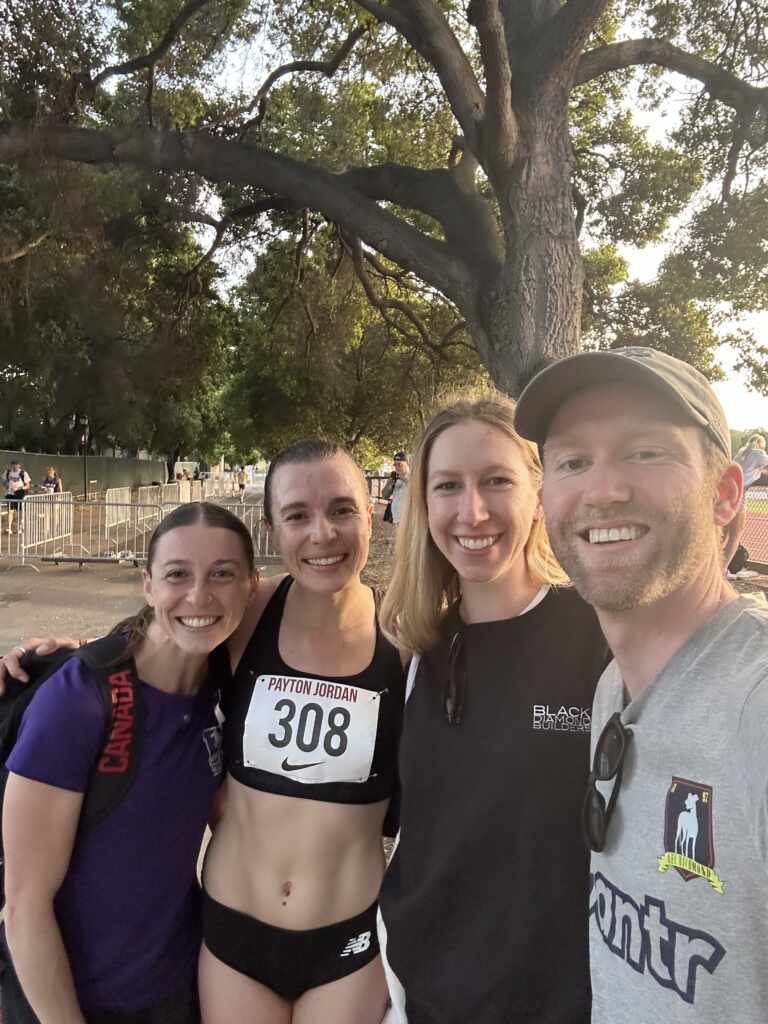 We've got some work to do before the next race at the Portland Twilight on May 6, but I'm excited to get back out there and give it another go. I'm going to do all that I can to put myself in a better position (mentally and physically) the next time I toe the line to be competitive and run fast. Onwards and upwards!