On race day, you want to wake up feeling rested, confident and ready to roll. While those conditions are best-case scenario, experienced athletes can and should be adaptable to ever evolving circumstances. My race day did not get off to a fabulous start and I had to adapt. I was wide awake from 2am to 6am. When I checked my phone in the morning, I learned that two teammates tested positive for COVID-19 and to top it all off, my period arrived 10 days late to land right on race morning.
In the grand scheme of things, none of these factors would affect my performance, but in the moment, it was a lot of suboptimal things all occurring at once at an inopportune time. The combination of events, in addition to the heat the day brought, had my head filled with dark clouds. Paranoia floated through the team as we considered our recent contacts with people. I tried to carry on my day as per usual but really wanted to offload how I was feeling to someone not on my team or our busy staff members. Thankfully, Cody was able to meet me for lunch and give me a bit of a pep talk.
After we met up and I carried out some mental prep exercises I learned from my sport psych, I felt a lot better and chilled out in my room for a couple hours. I wasn't able to nap but just resting and listening to music settled my brain. I refrained from checking social media and email as a distraction, which I normally do, and instead visualized the course and focused on my race plan. I also busied myself getting packed up and race ready. The senior women's team got our tattoos on and took a shuttle to the course a couple of hours before race start time.
Our staff members were busy keeping athletes cool by refilling ice vests, putting water bottles on ice and filling pools with water and ice. The mixed relay, junior women and junior men raced before us and the senior men raced after. We each had cooling protocols for before and after our race.
It was finally time to start warm up and we largely cut that back from normal. We did 10 minutes of easy running, a few fast feet drills to get the neural system switched on and just a couple of strides. The priority was to keep heart rate and core temperature as low as possible. The heat will raise those quickly and build throughout the race, which can be detrimental to performance and dangerous for the body.
Before we headed to the call room (basically a corral for all competing athletes), the Canadians filled pantihose with ice cubes to keep in our race tops for as long as needed. Officials held us in the call room quite briefly (usually we can be held in here for up to 20 minutes) where we were able to do last minute bathroom breaks and make final adjustments to shoe chips (which record your splits and overall race time). The call room was chaotic and all of a sudden, we were rushed out the door and herded to an area about 50 metres from the start line. The announcer introduced the top athletes of the field as we casually approached the starting area. As we got closer, we noticed there were no team boxes (common in cross country races) and it was just a mass start. Canada wanted to start all together but we were spread out when suddenly the start gun sounded and the race was off about five minutes earlier than scheduled. Fortunately, the rushed start wasn't a huge deal for us because we weren't looking to get off the line in a full sprint.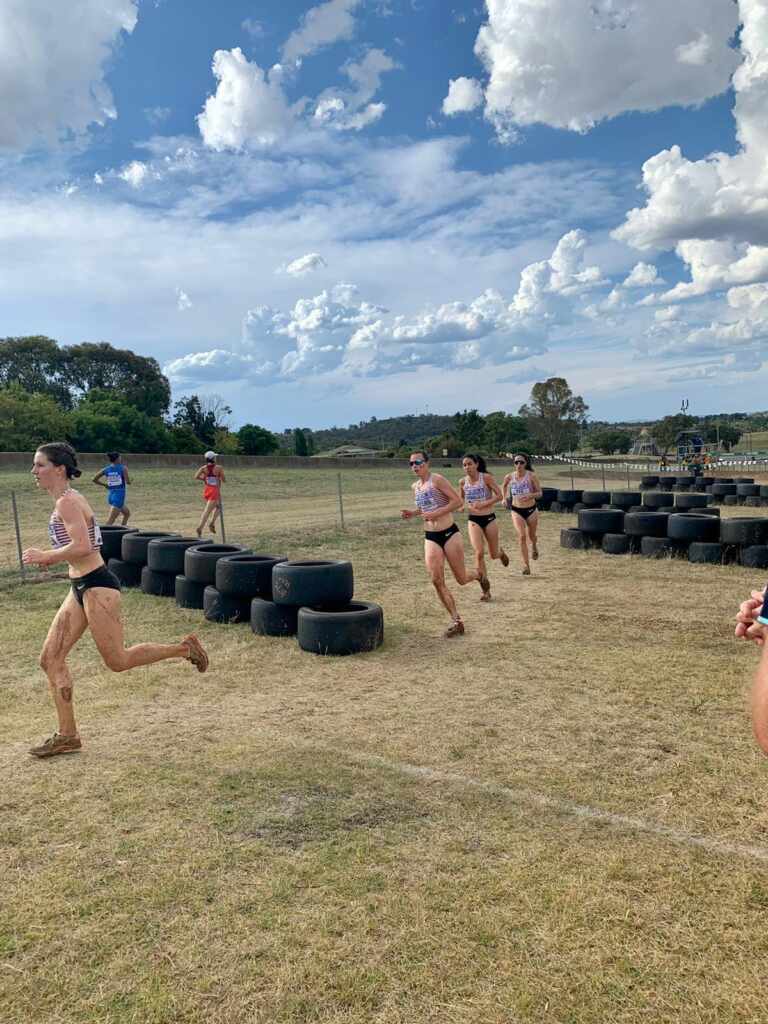 The plan was to start conservatively and for the first lap to feel "easy." Then, each lap we would work down the pace, sort of like a progression run. We wanted to be able to move up the field in the last two of the five laps, not move backwards or succumb to the heat. The race started out fast and dusty but for me, the first two laps felt controlled and manageable.  The sand and mud pits were fine and the hills were okay.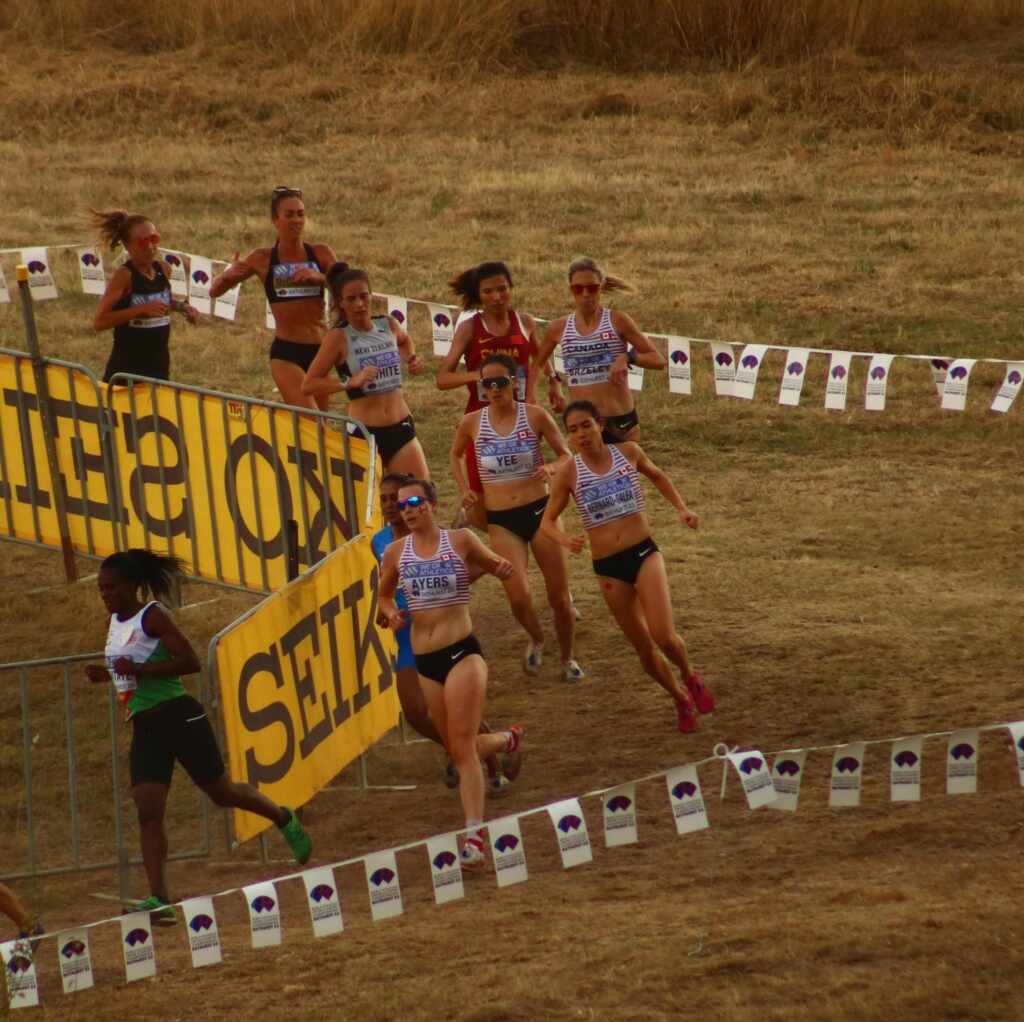 Me and my teammates Natalia, Regan and Maria were working together – running in a pack and helping each other get water at each station.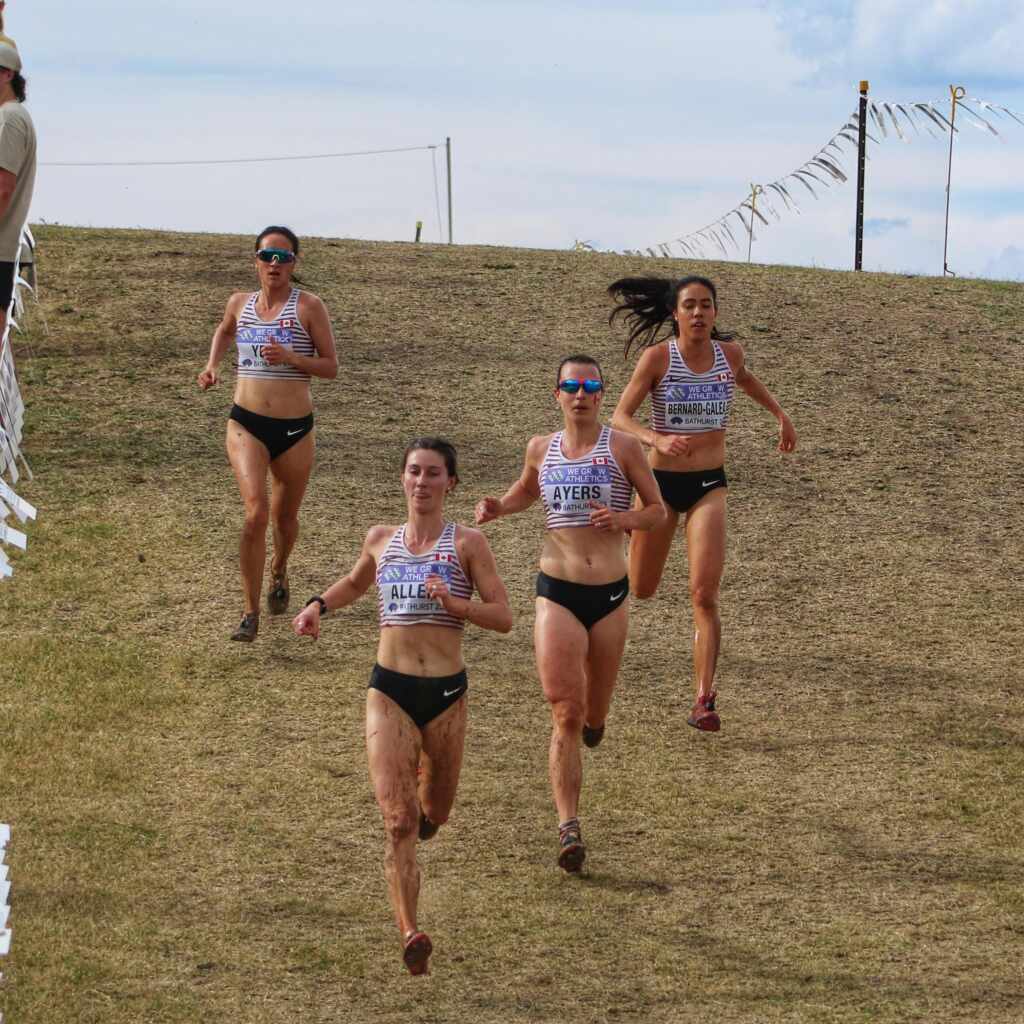 And then I hit the third lap and entered a bit of a dark time. I was redlining and Natalia and Regan began to move up with a pack. For me, every hill was a burner and I felt like I was standing still. By this point, some athletes had resorted to walking and I questioned if I would finish. I had to keep reminding myself that I started out the way I should have and that I had prepared well for this – I could handle it! During the fourth lap, I flipped to a more positive mindset while focusing on maintaining pace and catching bodies ahead of me. With 2k to go, I closed as fast as my legs could go and caught as many people as possible. Every place counts in this team event. It was a downhill finish over a few dirt mounds, and I just kept it together through the line into the finishing area. I got water right away and made my way through another athlete corral to return my chip and retrieve my accreditation.
I am super proud of our team (Julie-Anne Staehli, Natalia Hawthorne, Regan Yee, Maria Bernard-Galea, Kate Bazeley and I) for sticking to our race plan, working hard and running smart. We stayed tough and moved through the field. I finished 43rd out of 90 athletes and we finished 8th overall out of 12 teams. Go Canada!!
Full race results are here.