Apologies for the delay of this update. Cody and I have been driving quite a bit, away from good Internet (or any Internet) and soaking up as much sun as possible!
We started the week of February 13th driving to the race location, Bathurst. It was about an eight-hour drive from Melbourne and we spread it over two days in two separate vehicles. (Side story – we learned upon arrival that Enterprise does not do interstate returns, so we had to return the car to Sydney when we had already booked the campervan in Melbourne. As a result, Cody drove the van up and I followed along behind in the car). Our first night was spent at Table Top Reserve a little ways off the highway. The porta potty on site was full of toads (yikes!) but was surrounded by beautiful Hume Lake. As the sun set and all we had for light were a headlamp and phone flashlights, it took us some time to get the van functional for sleeping, but we eventually got settled in for the night.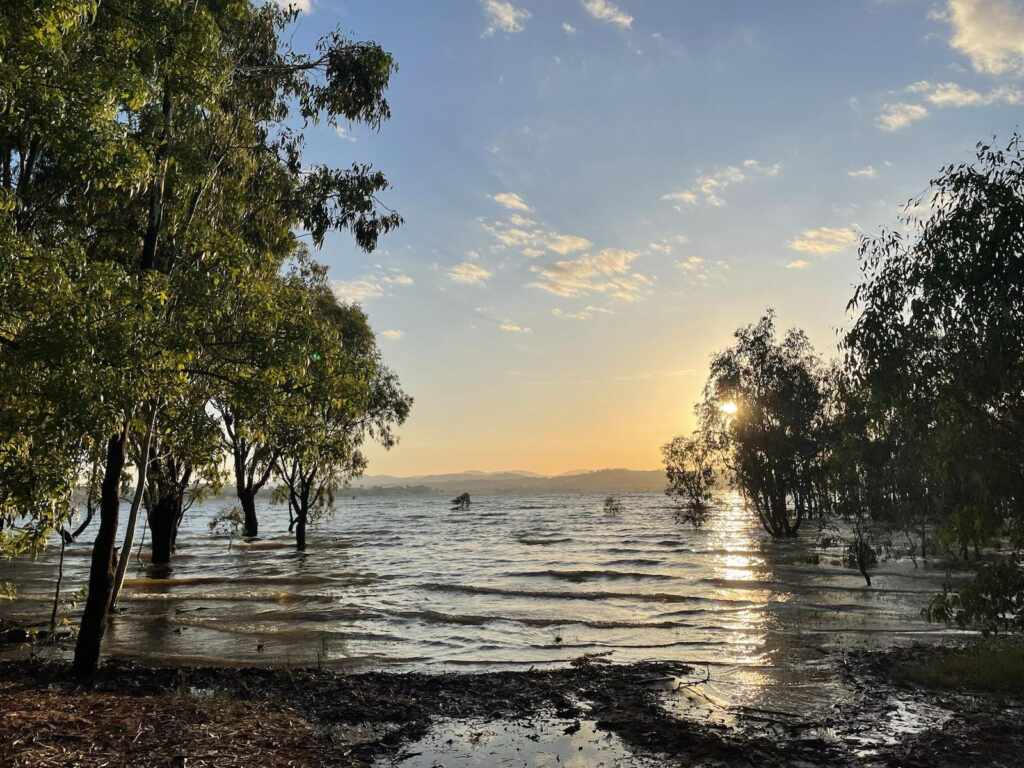 On Tuesday we completed the rest of the drive and got Cody set up with the van at Bathurst Holiday Park and I met up with the team at the Bathurst Motor Inn not too far down the road. The team did a short shake out in the evening and then we got some food afterwards.
On Wednesday morning I did a mini workout on a soccer field as a tune up for the race and got another feel for harder efforts in the heat. Melbourne was a great place to prep but the temperatures in Bathurst were far hotter, upwards of 5 to 10 degrees warmer. Heart rate spikes quickly at any pace faster than easy run pace. So we had to closely monitor effort, stay in tune with our bodies, not spend too much time in the sun, drink loads of electrolytes and wear lots of sunscreen! Also on Wednesday, Cody returned the rental car to Sydney and biked back part way, mostly up a mountain. I met him in the van as night approached. It was a bit unnerving because I hadn't driven the campervan yet, I was driving on a mountain road  and darkness was starting to set in. Also, I didn't have data so I had no idea where Cody was as I got further out. Thankfully when panic peaked and I pulled over to call him, he came around the corner – phew!
On Thursday, we moved to the athlete village in the residences at Charles Sturt University. We got our meet accreditation that allows us on the race course, into the meal hall for food and into out res rooms.  Thankfully all buildings in Australia have air conditioning.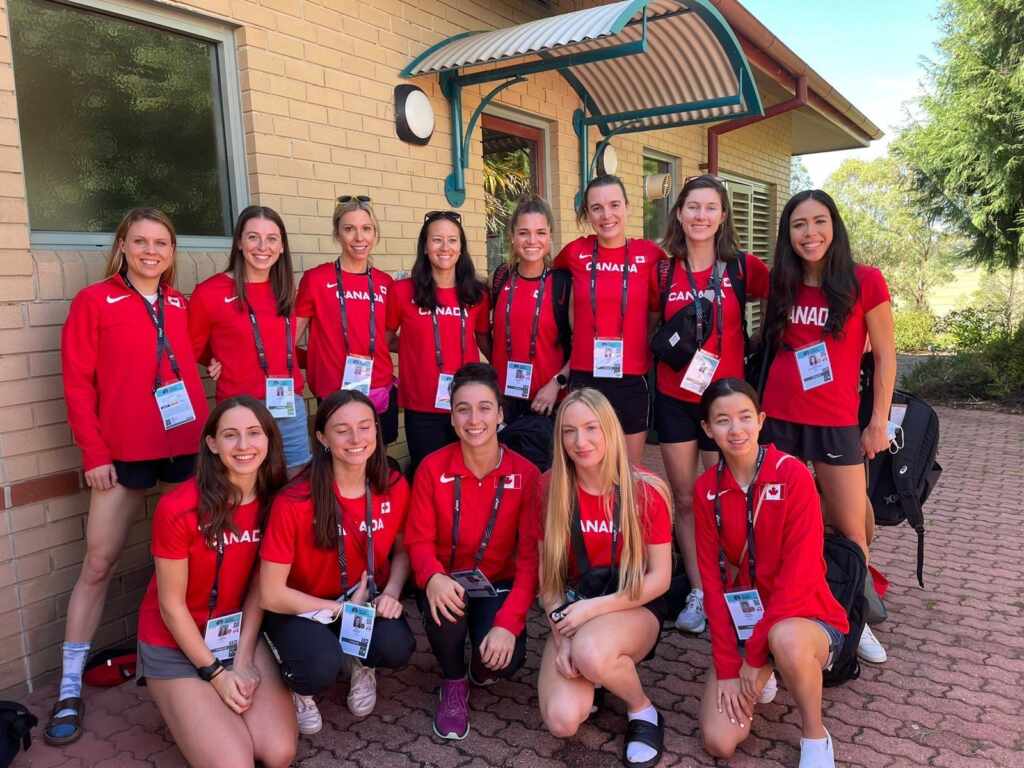 In the afternoon we scouted the course at the Mount Panorama Motor Racing Circuit (where cars usually race) and it was incredibly hot. We located our team base, which was inside a garage bay in the car racing pit area. While we walked or ran the course, the team got a first real look at what we'd face on race day. We had seen videos and heard people talk about how hilly it was but what we'd heard and seen did not do the course justice. It was gnarly – an uphill start with dirt mounds, a sand pit, steep climbs, off camber descents, and a mud pit in the first kilometre. The second kilometre went through a short vineyard section that continued to climb, followed by a long gradual descent before a hairpin turn to climb back up hill to wind through some tire obstacles. The finish was downhill to where we started. I half walked, half ran it and that felt tough, so I knew we were in for a gritty day.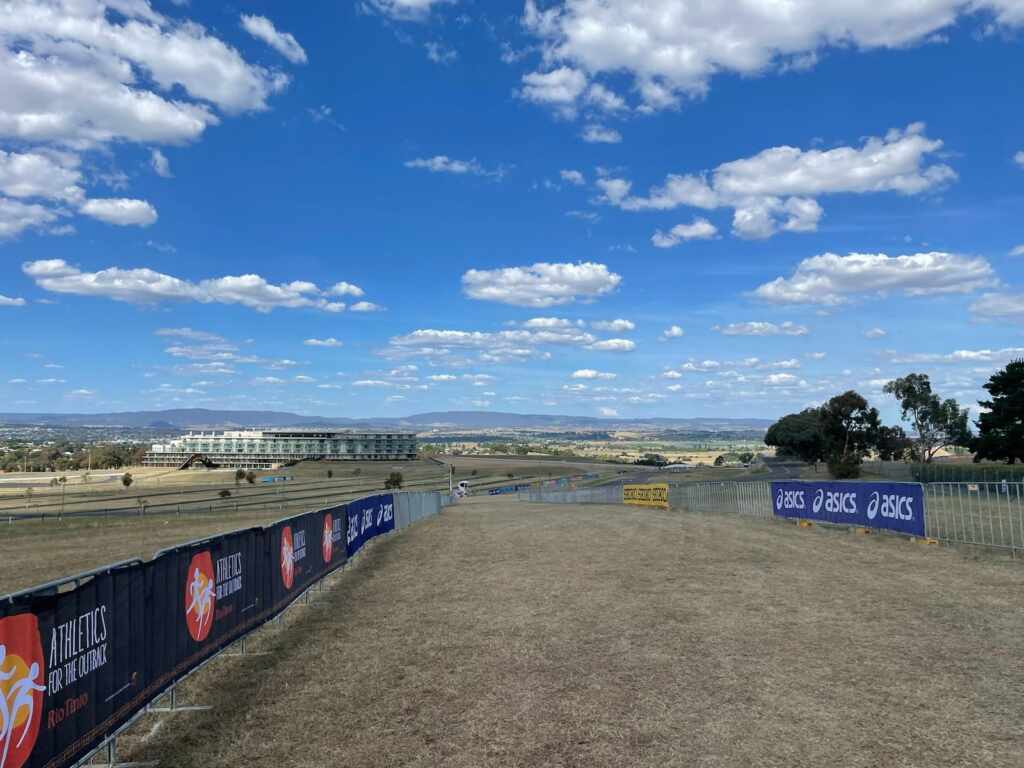 On Friday, I did my pre competition warm up and routine in the morning when it was cooler. Usually, we precomp at the same time as the race the next day, but my coach Hilary and I decided it would be beneficial to reduce heat exposure and allow for more time for recovery before the race.  Later in the morning, we had team meetings to go over race day logistics and discuss race plans with our coaches. The senior women's team met as a group to make sure we were on the same page. With the conditions and race course as tough as they were and it being a world championship, we had to be strategic in order to perform well and finish safely.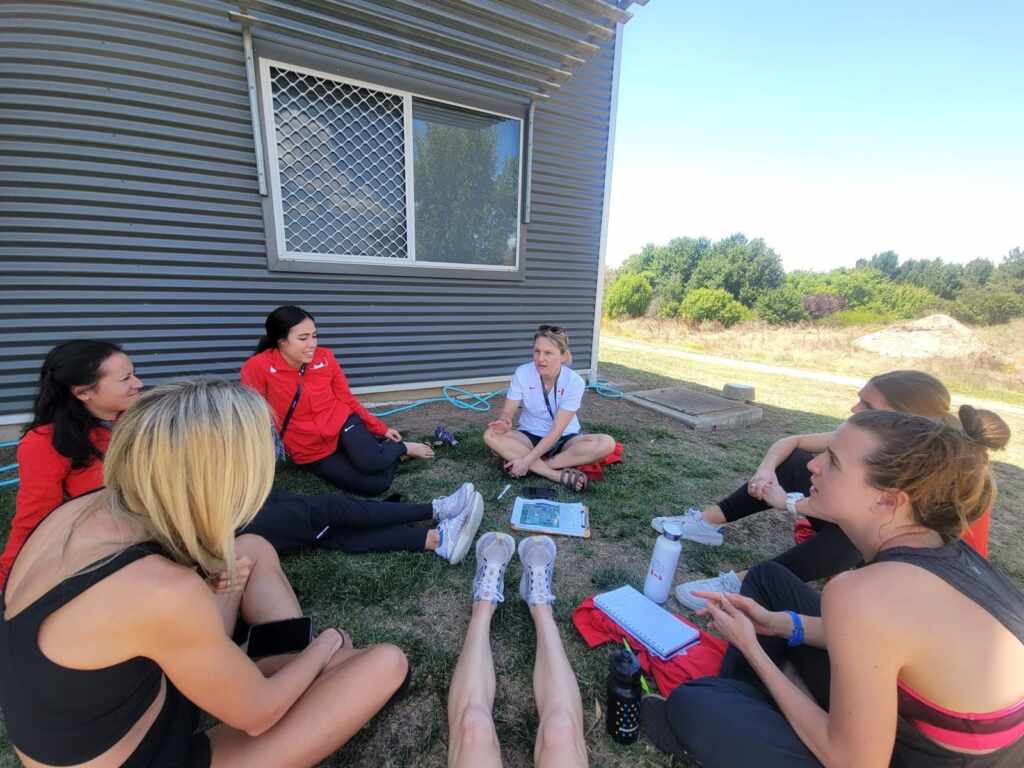 The rest of the day was low key and most of the team painted their nails red and white! I spent the afternoon inside eating, working and getting things organized for race day.
Saturday was race day!! Full recap here.
Right after our race finished, the storm moved in with full force. I only saw Cody briefly before he made a break for the van. The wind picked up and the sky opened up. Officials ended up starting the senior men's race about 20 minutes early to avoid weather delays or cancellation. As the guys raced lightning struck and thunder rolled. I was apprehensive about running around in an open field during the storm, but we headed out anyways to cheer on the men's team. It was pretty wild to experience! The temperature dropped significantly, and it rained hard for about a half hour. Thankfully we had the garage to take cover in. We took a shuttle back to the university and immediately headed to dinner in our soaked and filthy gear. #recovery! Following a hot shower and some brief chill time, the team headed to the event banquet for some more food and drinks. Photo below was taken after the storm had cleared that evening.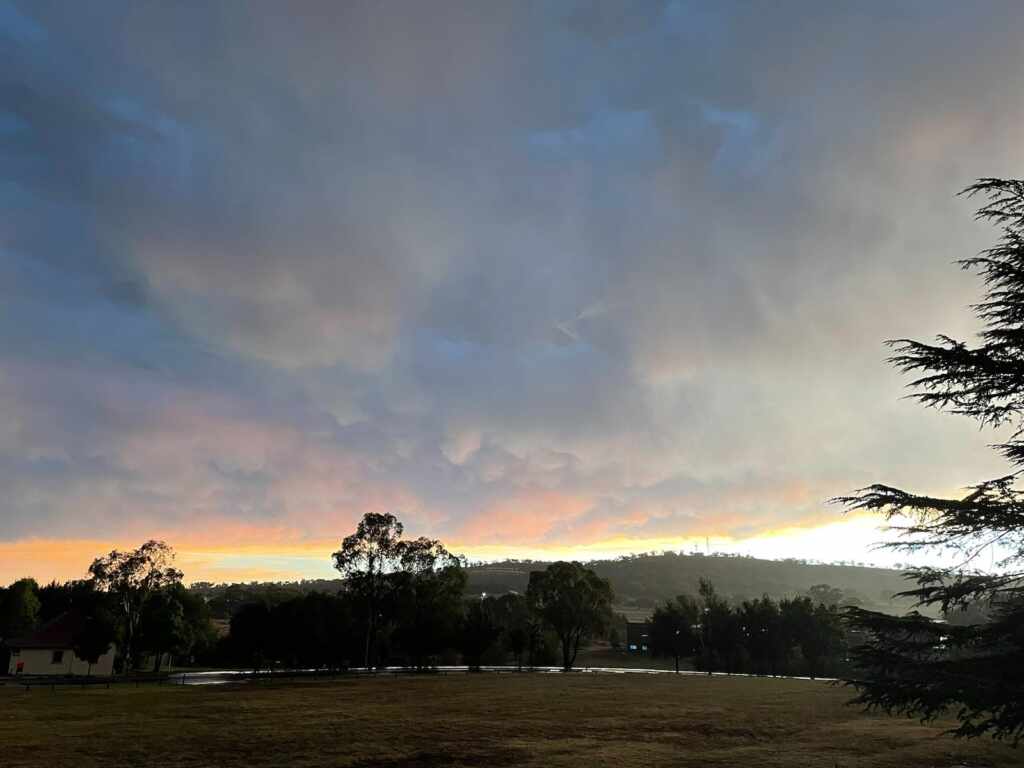 On Sunday, Cody and I did a short drive to Dunns Swamp – Ganguddy Camping area in Wollemi National Park. We followed a very narrow and long gravel road to the campsite. My legs were pretty sore from the race, so instead of going for a shakeout run, we did an easy 5km hike to Kandos Weir. We saw lots of wildlife, including wallabies, a brush-tailed possum and a spotted-tailed quoll (they were all far to quick to get photos of). The rocks in this area were massive and had interesting cut outs from river erosion over thousands of years.